AKRAM VIGNAN INFO EVENTS 2020
We are so thankful for
grace, A

kram Vignan and would like to make this unique gift and the opportunity for liberation available to many. That is why we offer information events where you can learn more (talk to people who have already experienced it) and get insights.


The information events are free of charge and are conducted by Nada, Uwe and Team.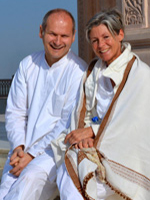 ! CANCELLATION EVENT 2 0 2 0!


We ask for your understanding - unfortunately the circumstances have forced us to Akram Vignan EVENT 2020 in Willingen cancel this year. Therefore we canceled our lecture tour and will not be there LIVE!

However, we offer an opportunity to meet and we look forward to meeting you LECTURES ONLINE ZOOM and the ACADEMY to see.

You can easily find it via this link all important information to experience a lecture with us in the next few days.

We have also designed a new Akram Vignan Online Academy for this. You can start with it at any time and explore the science of Akram Vignan. You can find information here.

We look forward to YOU ​​and your friends
From my heart
Jai Sat Chit Anand

Akram Vignan
Team